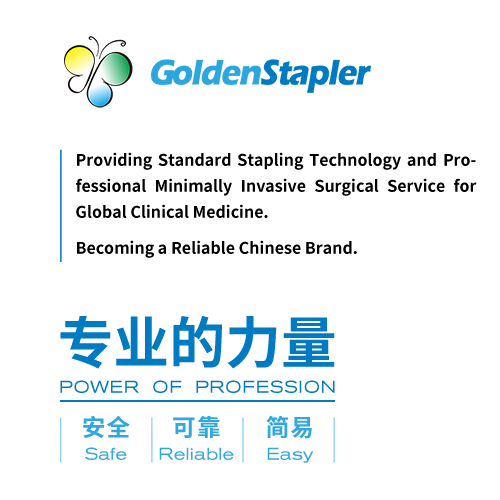 Golden Stapler Surgical Co., Ltd., is a Sino-foreign joint venture company, established in 2008 in Changzhou city. In 2013, GoldenStapler completed reorganization, entirely upgraded development strategy and established new vision and mission. GoldenStapler dedicates itself to provide optimal surgical staplers and minimally invasive surgical instruments world-widely and determines to become a reliable brand for surgeons. Famous venture companies invested abundant capital in the company, fully promoting series of prospective strategies.
Firstly, GoldenStapler formed its core team with global vision, and introduced superior management elites, senior R&D engineers, educational experts in medical field, production and quality management experts, etc. They have rich working and management experience in foreign-funded enterprises, laying a solid foundation for product innovation and improvement of quality management and service.
In accordance with the requirements of ISO13485, GMP and MDD instruction and other requirements of MDQMS, GoldenStapler fully implements the policy of "Total Quality Management", seriously studies international advanced technology and design concept. It completely satisfies technical requirements and service needs of surgeons and customers from customers' needs to refined R&D, from global procurement to supplier management, from process reengineering to quality improvement, from package and transportation of products to professional education and services.
GoldenStapler upgraded products in an all-round way. GoldenStapler successively launched new designed Circular Stapler, Linear Cutter, Linear Stapler, Hemorrhoidal Circular Stapler, Skin Stapler, Endo Cutter, Abdominal Trocar, Transverse Cutter,. etc. The product quality has reached or exceeded the international brand level.
New generation of Single Patient Use Endo Cutter and Reload uses patented technology of "Stepped Closed Staple Heights with Unequal Height Differences", enhances the performance of anastomosis and hemostasis, and provides reliable, convenient and economical minimally invasive surgical device for clinical use. After using, surgeons recognize GoldenStapler products has same operation experience with products of international brands.
GoldenStapler held Medical education courses in domestic market, such as "Clinical Application Skills of Staplers", which improves surgeons' surgical skills, advances their surgery effect, and establishes a solid foundation for patients to recover after surgery quickly.
GoldenStapler is ready to Advance Surgical Technology to Benefit More People with medical staff.